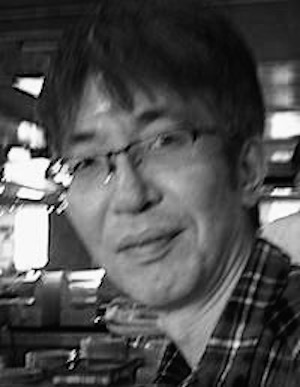 Jun Yamaguchi – Composer, Pianist
Profile written in Japanese is here. <日本語プロフィールはこちら>
Date of birth : 19 October, 1967
Birthplace : Tokyo, Japan
Degree : M.A. in design  (Kyushu University,  Fukuoka Japan)
Jun Yamaguchi is the Japanese Composer of contemporary music and Pianist.
He started study basic of music at age 5 and Piano at age 7. He studied Composition with Mr. Tatsuhiko Nishioka, Dr. Yori-Aki Matsudaira and Dr. Chaya Czernowin, studied Piano with Ms. Masako Okubo, Ms. Emma Ito, Ms. Keiko Kanazawa, Mr.Hideyo Ozawa, late Ms. Kazuko Abe, Ms. Haruna Hirao and Ms. Yaeko Yamane, studied Cembalo with Mr. Ryunosuke Okada. He also studied in Graduate school of design, Kyushu University with Mr. Shigenobu Nakamura. 
He enrolled the Akiyoshidai international seminar and attend composition lessons under Mr. Brian Ferneihough, Ms. Yongi Park-Paan, Mr. Toshio Hosokawa and Ms. Isabel Mundry.
Jun Yamaguchi started his composer's carrier at 1990s. He joined some composer's groups <Genzaikei no ongaku (Music in the present tense)> , <group MINUS SIX>(organised himself) , <Shin-shin-kai>, <Group NEXT> and <Hogaku 2010>.
Jun Yamaguchi received Yamaguchi prefectural governor prize of the 6th Akiyoshidai International Composition Prize (2nd prize), finalist of the 13th JSCM (ISCM Japan section) Composition Award in 1996, received the 20th Irino Prize (1st Prize) in 1999 and finalist of 72th The Music Conpetition of Japan in 2003. Also his composition work "A Garden With Turning Breezes No.1 for Sho and 6 players" was selected by international jury and played in the ISCM World Music Days 2001 Yokohama.
In July 2001, He went to the USA under a grant from the ACC (Asian Cultural Council) and remained in New York until June 2002.
At present, There are over 30 Jun Yamaguchi's works and they were played by Robert HP Platz, Norio Sato, Tomoyuki Okada, Mayumi Miyata, Naoyuki Manabe, Chiyoko Noguchi, Asako Urushibara, Carine Levine, Kiyonori Sokabe, Kosei Murata, Reiko Manabe and many players in Akiyoshidai, Tokyo, Yokohama, Kyoto, Osaka, Pisa (Italy) and NHK (Japan national broadcast) FM radio.
Jun Yamaguchi served as a member of jury in Piano division of the Japan Classic music competition in 2010 to 2015.
He is also vice CEO of Lis Branc Creation LLC.